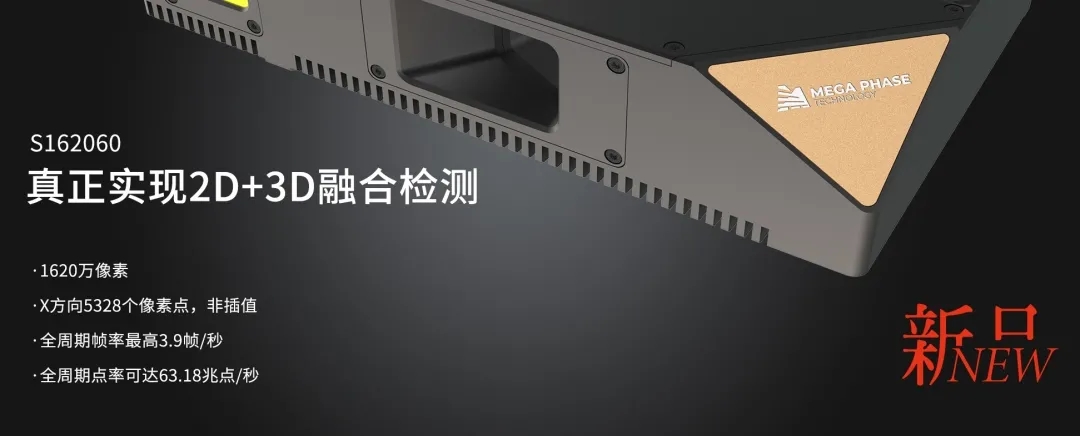 Recently, Mega Phase technology released the industry's first 16.2-megapixel structured light 3D camera, sizector ® 3D camera s162060. Based on the latest s series technology platform of Mega Phase, the product adopts the industry-leading structured light 3D reconstruction technology. As the first 16.2 mega pixel 3D camera launched by Mega Phase, s162060c appeared in the Vision China (Shanghai) Mega Phase technology exhibition in March 2021.
The camerauses the latest generation of high-speed CMOS chip, the number of X-direction pixels reaches 5328 (non-interpolation), and the quality of point cloud output and the detection accuracy of 3D camera can reach a new height.. In the case of 16.2 mega pixel resolution all point cloud output,s162060 can achieve the fastest full cycle frame rate of 3.9 frames per second. From the point rate index of the whole cycle (as shown in the figure below), the data processing speed of s162060 is much faster than that of the same type of products, up to 63.18 mega points per second.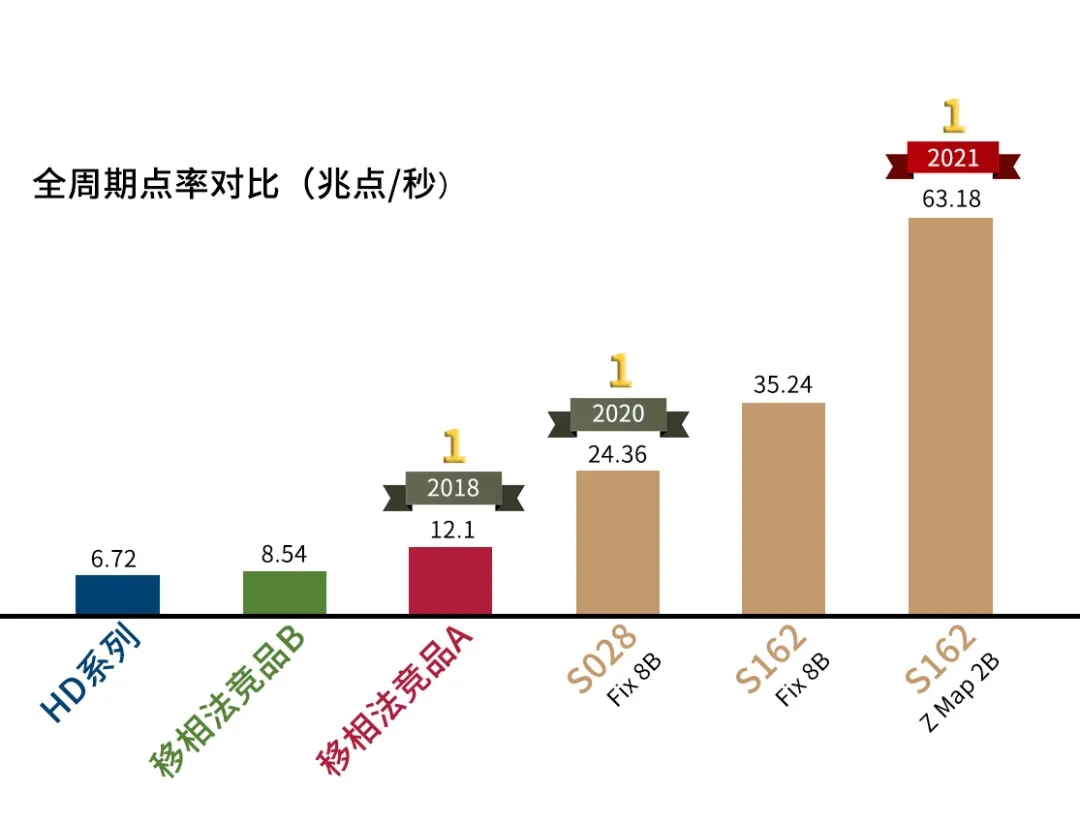 Comparison of imaging effects
Comparison of imaging effect of solder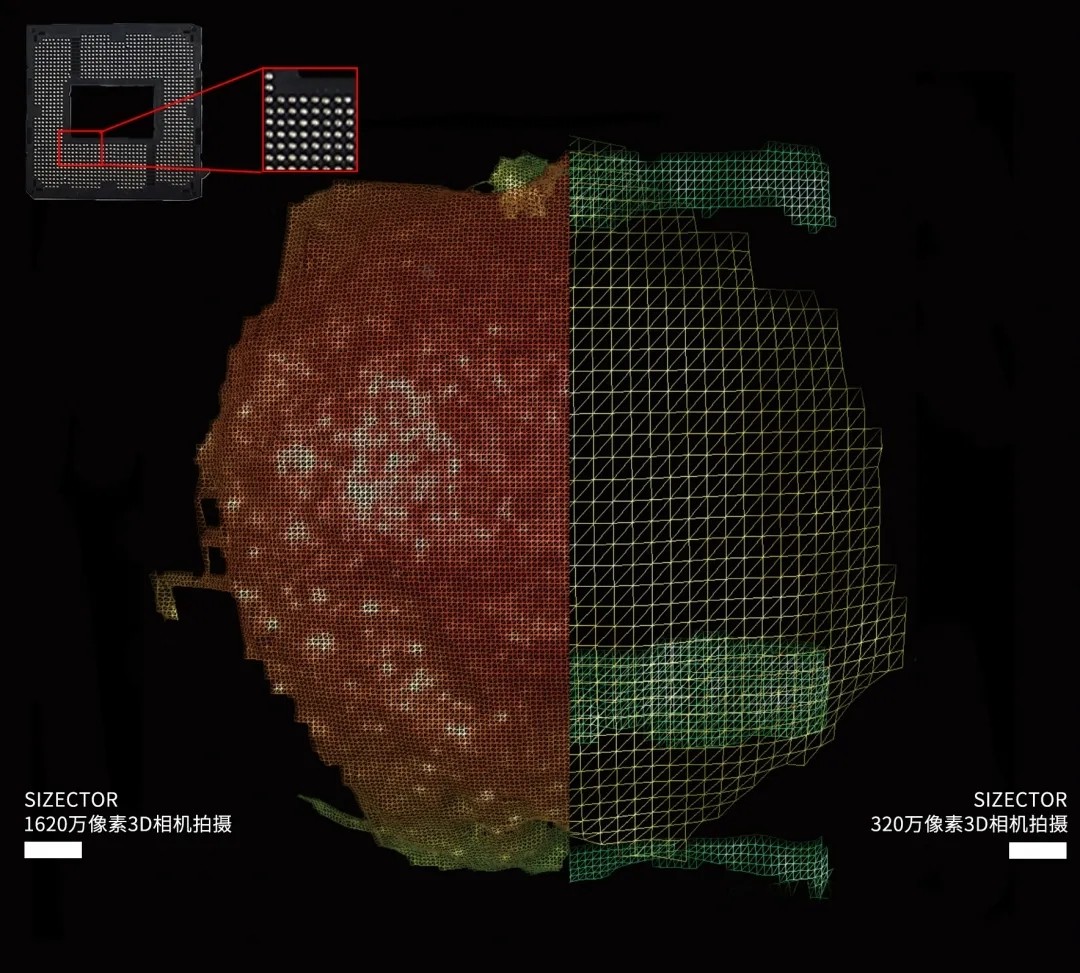 Imaging effect comparison of pins in IC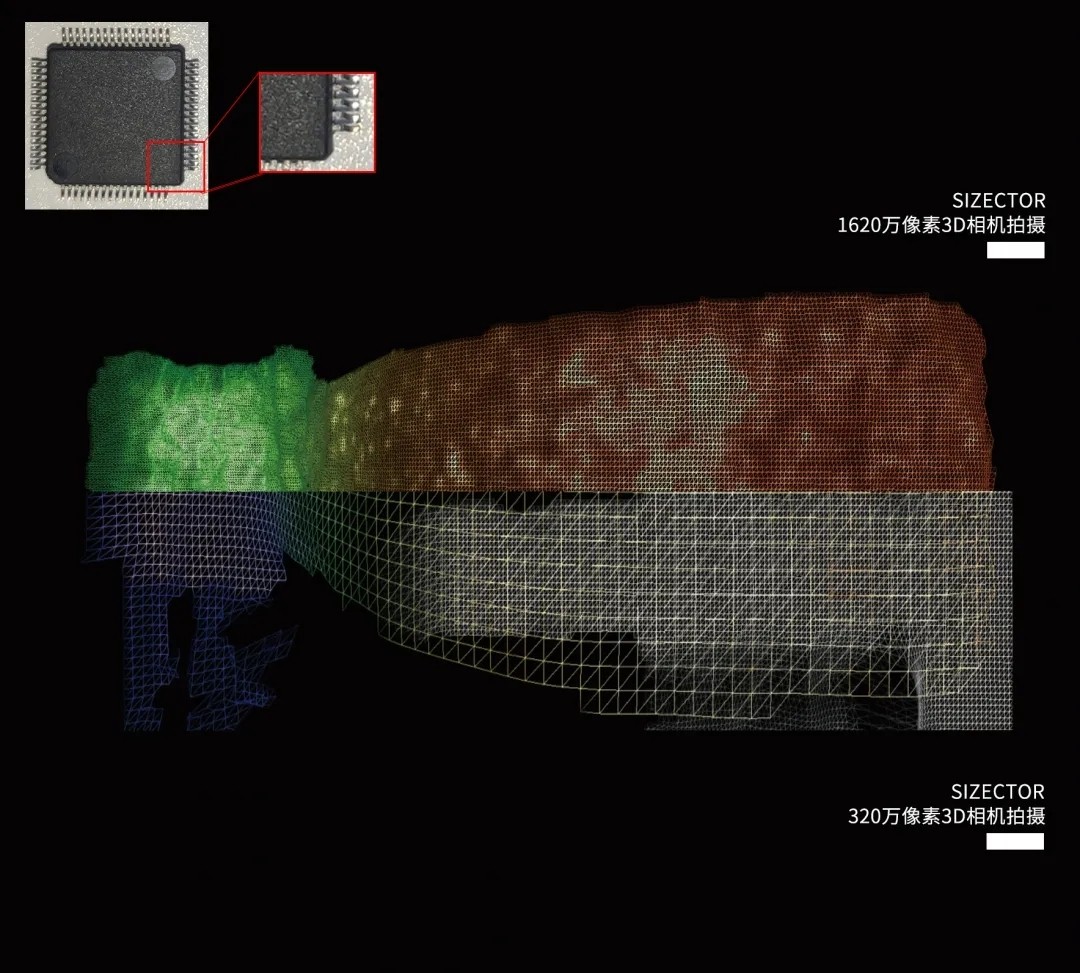 High resolution 3D camera will bring customers a different experience. Taking 16.2 million pixel 3D camera as an example, it has 5328 pixels in X direction, which can solve the defect detection problem that the previous- generation 3D camera is not good at. It provides another detection scheme different from the existing 2D + 3D camera, which is a better solution to the existing visual inspection requirements. S162060is the first 3D camera in the industry which truly realizes one-stop 2D & 3D inspection.

Sizector®S Series Platform
Sizector ® S series platform was officially released in July 2020. So far, 8 models of 2.8 megapixel and 1 model of 16.2 megapixel 3D cameras have been launched. S series can not only meet the high frame rate requirements of online detection, but also have powerful hardware functions (such as hardware HDR, hardware matrix transformation, hardware point cloud post-processing, etc.), and will be able to support the output of a variety of 3D data formats (as shown in the diagram below).。
S platform has a high degree of openness and rich scalability, and can provide more configurations and models of 3D cameras. In the future, it will launch more types of products, such as different mesh numbers (1 / 2 / 4 mesh), supporting external light source expansion (external RGB light source can be connected to realize rgbd data output), and configuring telecentric / non telecentric lens, to meet the increasingly changing needs of 3D applications.
Right now, a small number of S162060 prototypes are open to users. You're welcome to contact us for any applications/project evaluations.